Many people who visit Ios takes the bus from the village to Mylopotas beach, but you can just as well walk. It is only 1.5 km (1 Mile) between the main bus station of the village Chora and Mylopotas and it is all downhill from there.
So walking down to the beach is easy and quickly done and it is only on the way back up that you should consider taking the bus. The bus station of the village is located at 105m above the sea so it is a steep climb up. But still no problem to do. Now I'm going to try to describe the way to this amazing Greek beach located in Ios.
Leave the village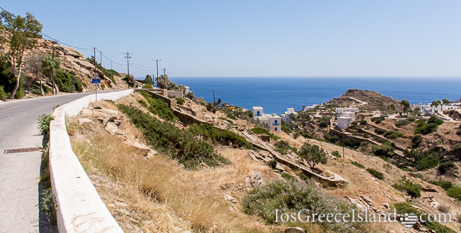 First of all you need to walk in the right direction. Mylopotas beach is located south east of the village. So follow the main road that leaves the village in that direction. If you have not been to Ios before then don't worry about finding the right road as there is only one real road going through the village in the direction of west to east. You should see the view in the picture as you leave the village. The photo is taken just after passing Scorpions nightclub at the end of Ios village. Just follow the road as it takes you all the way to the beach.
But there is a shortcut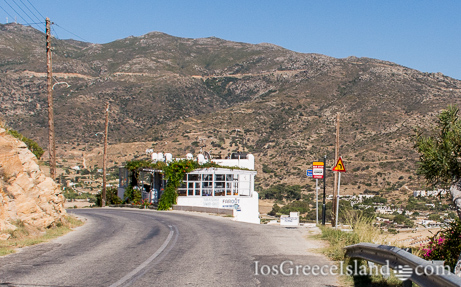 You could follow the road all the way to the beach but you could also leave it when the road makes a sharp left turn as seen in the photo. The shortcut is to the right of the house in the image and you save 560 m (0.5 mile) if you go that way. You will get to the beach faster but it is also a steeper path than the main road.
Almost at Mylopotas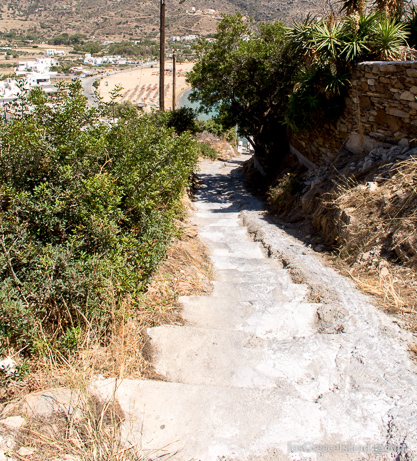 You are almost at the beach when you take the shortcut and you should be able to see the beach from the path. Follow it down hill and stay on it until you come to a big "NO ENTRY PRIVATE" sign painted on the ground. Then you take a left down the steps seen in the picture. This is the steepest part of the walk. You can either use the steps on the left part of the path or walk down the smooth part on the right. I prefer to use the smooth part since the steps are a bit long for my taste. But be aware that it may be slippery so proceed with caution if you do not use the steps. I have seen many people fall here.
You have reached the most popular beach in Ios, Greece
This path leads directly to Mylopotas. So now you are finally here and can enjoy the most beautiful beach in Ios, Greece. I hope you liked the walk!